Experiences of our customers
Marieke August 29, 2023

I WAS SKEPTICAL, BUT IT WORKED!!

We don't know what we are experiencing, but this sheet is truly magical! Our son only slept in our arms during the day and in the sling at night. It was nice to be so close to us, but it became increasingly difficult, both physically and mentally. Tried a lot but nothing helped. We ended up with this sheet. My son didn't like swaddling so I was a bit skeptical. But it works!! My son now takes several naps a day in his crib and last night for the first time he slept 4 1/2 hours in a row in his own crib. Without a sling. He protests a bit at first, but due to the pressure of the sheet, he surrenders. Highly recommended!!

Danielle March 8, 2023

OUR LITTLE SON SLEEPS SO MUCH MORE QUIETLY

Very happy with the purchase of the Fedde&Kees sheet. The first night with the sheet, our son slept so much calmer and therefore better. He also slept soundly all night long. He didn't wake up every so often, for example because he was waving his arms again. It is expensive to purchase, but we think it is definitely worth it!

Iris February 4, 2023

THE DESIGNER DESERVES THE NOBEL PRIZE:)

We are very happy with this product! Due to the four months of sleep regression, we did not sleep through the night for nine weeks. Our daughter woke up five times a night, mostly because she kept rolling over and couldn't roll back. In addition, we couldn't put her down until she fell asleep in our arms. With this sheet we can put our daughter to bed and within five minutes she falls asleep independently. She can sleep through the night regularly again and when she wakes up, we never have to take her out again, but she can fall back asleep on her own after some closeness. Life saver!

Marijke November 5, 2022

ENTERING IS NOW A EASY PIECE!

Extremely satisfied with the NUNKI sheet!! Our son would constantly kick off the covers during the night and then wake up and start crying. He doesn't kick off the NUNKI sheet and now sleeps contentedly through the night. Shipping was super fast and the blanket is very easy to put on the mattress. Tucking is now also a piece of cake!

Chelsea January 17, 2023

NOW SHE SLEEPS MUCH BETTER!

Good service. The product was delivered quickly after purchase and we are very happy with the NUNKI sheet. Every night our daughter would kick her sheets off, waking her up. Now she sleeps much better!

Merlissa October 27, 2022

IN 1 WORD FANTASTIC!

We are really happy with the Nunki sheet!! Started using this from 2-3 months and still so happy with it. I really recommend everyone in my area who is pregnant or has a small one to buy this! In one word fantastic! And also super easy and quick to contact if there are any questions or problems. Really a great product!!

Ammadee Middelkoop December 14, 2021

Pity THIS DID NOT EXIST BEFORE

Dear Frederieke, I would like to thank you for these great inventions. The combination of the sheet and the sleeping bag works great for our third son Reza. Switched from a swaddle swaddling cloth without any problem. He sleeps peacefully and through the night. Such a pity that this did not yet exist with his older brothers, because that would have helped us a lot at the time

Patricia Barnhoorn December 8, 2021

HE SLEEPS LIKE A ROSE

Almost 3 years ago we were hopelessly looking for a solution for our son who couldn't sleep. Since he could already roll at 4 weeks, we were not allowed to swaddle. By chance we came across fedde kees, then still fairly new. After a call from Fredererique, we decided to purchase the NUNKI sheet and the BUNDI sleeping bag. It felt like our last resort. After 3 days of practice, our son slept like a baby!

Collin Geraedts February 23, 2021

WHAT A FANTASTIC SHEET!

Our little darling slept through quite quickly with the help of a swaddle sleeping bag from dream to swaddle (our little one likes to suck his hands). But he often woke up around 04.30 from his own wobbling. Then often lay completely slanted in the co sleeper. Now he has been going to the shelter for a few weeks and sleeping didn't really work anymore. Finally decided to give the NUNKI sheet a try. And I can say it works great! He sleeps through again and lies quietly! Highly recommended!

Sev van Dijk February 2, 2021

WE ARE SO HAPPY WITH THE SLEEPING BAG AND SHEET!

Our son woke up several times in the night (read every two hours). It's been going so well since the day before yesterday! First he slept from 23:00 to 05:00 and yesterday from 22:30 to 07:15. We love Fedde and Kees!

Anniek de Ronde 25 January 2021

VERY HAPPY WITH THE SHEETS

Our daughter sleeps wonderfully under it! Loose sheets/tucking in is a thing of the past, she is always nicely tucked up. We had a small defect with 1 sheet, this was immediately resolved. Excellent service, nice contact. Keep it up, very satisfied.

sleep rest
Prevent and solve your baby's sleeping problems with the NUNKI sheet and BUNDI sleeping bag.

Easy to tuck in
Tucking your baby is super simple, anyone can do it. Going to bed becomes a loving moment again!

security
Deep pressure and boundaries provide security. This way, your baby will fall asleep peacefully.
Who is our product suitable for?
Fedde&Kees makes products that help your baby sleep better. With the Fedde&Kees method, your newborn baby or child is safe and secure in bed. No hassle with complicated cloths or loose sheets, but a well thought-out system that allows you to tuck your baby in quickly and easily. Fedde&Kees has a solution for every phase:

prevent sleep problems in your newborn baby

alternative to swaddling for babies who sleep restlessly

gradually phase out traditional swaddling

for older babies from 6 - 36 months who sleep restlessly

The NUNKI sheet does not fixate, so your baby can also lie in the hurray position. Also suitable for children with hip dysplasia and reflux.
Safe & peaceful sleep in 3 steps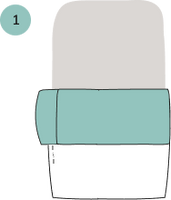 Step 1. Attach the NUNKI sheet to your child's mattress according to the instructions.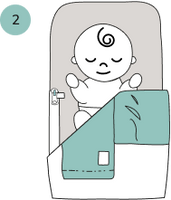 Step 2. Unzip the sheet and put your baby to bed.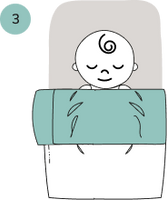 Step 3. Tension the sheet by first attaching the Velcro and then easily zip it closed.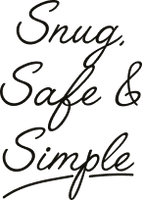 read more
Move less with the BUNDI sleeping bag
The BUNDI sleeping bag from Fedde&Kees ensures that your child can move less uncontrollably. This way your child will calm down and it will be better to surrender to sleep. The sleeping bag is a mild alternative to swaddling, which gives your child more freedom of movement. It's a lot easier for you too. No hassle with complicated cloths, but simply a sleeping bag with sleeves that you can zip up. Super simple and most effective in combination with the NUNKI sheet.
Check out the BUNDI
The Fedde&Kees method
-

COMBINATION NUNKI & BUNDI

free shipping
in the Netherlands

delivery in
1 - 2 business days

including free advice and support from Fedde&Kees